Why Gray Kitchen Cabinets Are Becoming Popular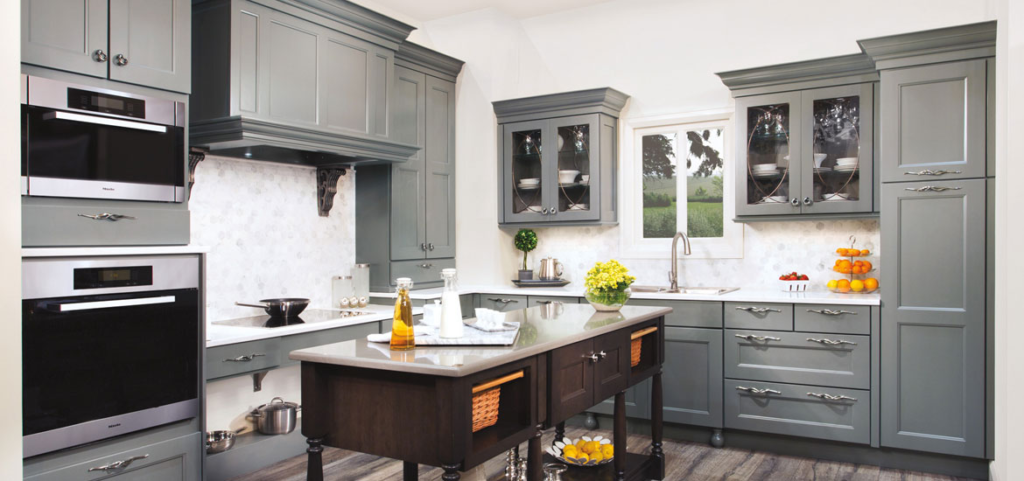 The kitchen is an essential part of any home. Bustling with meal prep and shared conversations, your kitchen should also stand out in terms of looks as well, right? In doing so, you'll need to make sure your kitchen cabinets achieve a perfect balance of both serenity and vibrancy.
If you are wondering what shade will help you establish such a subtle yet cozy look, gray might be what you are looking for.
In the realm of interior design, gray kitchen cabinets are ascending the popularity charts, redefining the culinary landscape. This article will explore why this subtle tone has become the latest favorite.
Why Gray Cabinets are Becoming Popular
Gone are the days when kitchen cabinets were merely utilitarian units. Today, it is much more than that. When it comes to designing a kitchen cabinet, in addition to functionality, other factors like spatial features, vitality, and elegance also matter.
The significance of the color palette lies at the heart of this transformation. Through the right color choice, your kitchen could stand apart in terms of fashion, and vibe.
This is why gray cabinets are becoming popular in kitchen design due to their versatility and ability to create a timeless aesthetic. Here are a few reasons behind their popularity:
#1 – Timeless Elegance
Gray is a go-to color for many decorators, designers, and homeowners. It's not only popular in furniture but also a preferred choice for cabinets.

It has gained popularity over time because it's considered one of the most neutral colors. Gray remains unfading over time and rarely stains or changes to another color.

Gray is timeless, and your cabinets will be too if you use this color on them

#2 – Versatility Redefined
Gray cabinets seamlessly adapt to both warm and cool color tones, allowing for endless pairing possibilities with various kitchen designs. It also accepts any countertop material and appliance finishing.
Be it in a farmhouse-inspired kitchen, a traditional kitchen, or a contemporary cooking space, Gray works with almost all kitchen styles and cabinet designs. It's a versatile color.

#3 – Warmth in Neutrality
Gray colors are typically mild and neutral, making them easy to pair with colors like yellow, blue, red, and more. The specific hue or undertone of these colors can influence whether they appear cooler or warmer.

For instance, gray with a red undertone may appear ashy or even take on a putty-like hue over time, much like taupe. To dispel any doubts, give it a try and discover why it's such a popular choice.
#4 – Personalized Tranquility
Most individuals Prefer to use colors that aren't loud. Shades of blue, green, red, or even purple will appear too loud for a kitchen. With this in mind, they prefer to use mild colors that are soothing to the eyes. With this, in terms of tranquility, Gray takes the lead.

Grey is a color that brings a sense of satisfaction to most people when they step into their kitchen. Just visualize a gray-painted wall with a matching cabinet coupled with glaring colors like blue, steel, etc. on your utensils. I'm willing to bet you've already added this to your to-do list.

#5 – Harmonizing With Countertops
Interestingly, any countertop looks good with a gray kitchen cabinet. You may have countless choices for your countertops. But don't panic; gray works as a neutral hue.
Just like white, brown, and black. You can select a shiny countertop with a color like teal or go for ones like blue, steel, or stainless. Anyone you choose must fit in.
#6 – Mastery in Hiding Imperfections
White colors are known to stain easily without even having to touch them. Just a splash of oil or food is enough to do the damage. But this is different when you use gray kitchen cabinets.

They hide any form of dirt, fingertips, stains, or droplets on sight. Leaving it all clean and elegant for a long period of time. Even if they get dirty, a little washing or cleaning is enough to take them back to their original state.
#7 – Luxurious and Trendy
Gray shades have dominated the scene over the years, surpassing white and black.
It has fully been understood that it makes the kitchen look luxurious, glamorous, and trendy. It also incorporates long-lasting elements.
Gray will always stand out among other colors and offer the luxurious touch you desire.
#8 – Space Amplification
Dark rooms often feel cramped and uncomfortable. Gray colors, on the other hand, can help create a more spacious and airy atmosphere. It allows you to get the most out of your space. This color also makes the room less stuffy and congested. This is because Gray is a light color that can reflect light and make the kitchen feel brighter.

People tend to see it as a dull and lifeless color, but that's not true. If you need something to give you the utmost satisfaction in your kitchen when it comes to size and airiness, choose gray cabinets.
#9 – Culinary Serenity
Despite how it might sound, a sense of relaxation is crucial in the kitchen.
If you aren't relaxed, you may end up messing up your cooking. This is why you should choose gray colors. It causes a deep sense of relaxation and altogether sparks excitement whenever you come into the kitchen.
Therefore, to maintain a relaxed and enthusiastic atmosphere while cooking, consider using gray for your cabinets.
Craft Your Dream Kitchen With Gray Cabinets
When looking for a fresh coat of paint to elevate your kitchen cabinets, it is paramount to keep these mentioned factors in mind.
If gray is your chosen color; it will not only enhance your kitchen's aesthetics, it will also improve your dining experience.
So, don't just imagine it—take action and bring your dream kitchen to life with the timeless color gray. Embracing this choice will deliver an exceptional kitchen experience in terms of both functionality and elegance.