Digital Marketing for Food Trucks: Tips for Success on Wheels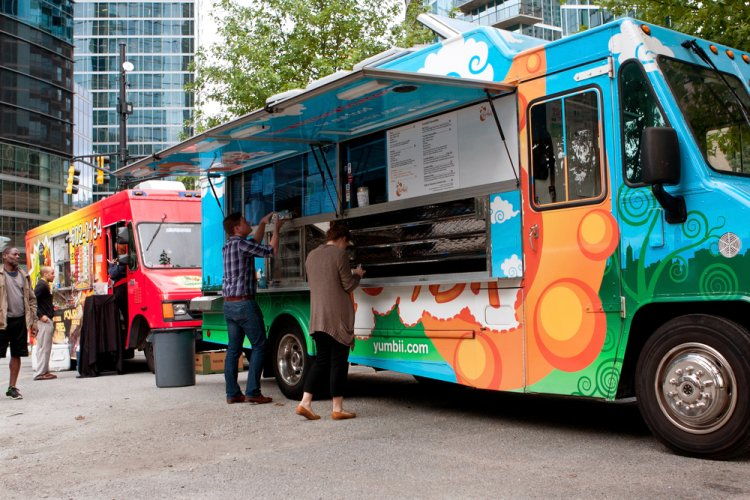 In recent years, the popularity of the food truck industry has boasted an exceptional growth of 15% as reported by IBIS World. The industry is experiencing a massive surge in popularity as currently, 16,000 food trucks are operating all over the country. Above mentioned shreds of evidence clearly show the fierce competition within the thriving industry.
So, taking advantage of the power of digital marketing in order to carve out a unique and distinct place on the culinary landscape is not just an option, it's a necessity. Hiring a specialized digital marketing agency for startups can significantly boost the success of your food truck business by implementing tailored strategies to optimize your website and local customer engagement.
This comprehensive guide aims to provide all food truck entrepreneurs with the strategic steps and actionable steps to help their machinery navigate the virtual highway to success. So, let's start without any further ado!
Take Advantage of the Mobility of Food Trucks
Food trucks have a built-in superpower – they can move. Imagine having a restaurant on wheels! To take advantage of this power, you must stay updated about the big cultural events and festivals or competitions in your area. Inquire about how you can become a food provider in such events to serve hungry visitors.
This approach will help your food truck to be noticed by a lot of people. You can also go to busy downtown areas during lunchtime. In such gatherings, never forget to carry your marketing material such as flyers, brochures, and business cards to hand out to the visitors so they can know where they can enjoy delicacies.
Consider Location-based Advertising
According to data provided by "Think With Google", 92% of people rely on mobile phones to make the best decisions at the moment of purchase. Also, 88% of those who find the local information tend to take action within a day. This data clearly suggests the importance of Geo-based advertising such as check-is and real-time updates on Instagram and Twitter that engages customers and increases your sales by broadcasting your whereabouts.
Moreover, you can also try location-targeting Google ads that appear in your desired geographic regions. Not only this, but you can also use special discounts and offers through platforms like Foursquare to get your customers to get them more excited. Plus, to optimize your exposure to hungry people, use data analysis so you can pinpoint high-foot traffic spots.
Use the Art of Advertising through Mobile Phones Effectively
Did you know that organizations with mobile-optimized sites triple their chances of increasing mobile conversation rate to 5% or above. This implies the immense potential of mobile advertising strategies to not only reach people where they are but also provide tangible results for your food truck business. These include
Using Snapchat Geofilters to highlight your daily specialties.
Sharing your BTS moments and showcasing your special dishes through Instagram stories.
On Tiktok, create content that provides knowledge and entertainment about your culinary skills and tidbits.
Moreover, you can also go for direct communication through SMS alerts and push alerts to make your customers informed about the latest discounts and deals.
Engage in Interactive Content Creation
Creating content that captivates your audience is like adding a special flavor to your brand. It's what makes your business unique and relatable. Using images and videos can make your message even more powerful.
Share the Journey of your Food Truck on Social Platforms
Use the idea of visual storytelling to make an emotional attachment with your customers. It can be done by posting about how you started, what hurdles you faced, and how you evolved, like the thorough journey and vision of your food truck on social media like Instagram and YouTube.
You can also tell about your values and passion for food running a food restaurant on Wheels. Studies show that posts with a compelling story have a 52% more engagement rate than the others. This shows the power of storytelling to build connections with customers.
Make More Short Videos
Cisco declared that by 2022, online videos will make up more than 82% of all consumer internet traffic and while consumer demand for video content continues to soar, content creators have to work really hard to keep up. So, to optimize your digital presence you should have more short videos showcasing your truck's happening. You can create short clips or reels of your food preparations, visitor testimonials, menus, and social events.
Moreover, User-generated content (UCG) significantly increases your reach (impressive 4 times more engagement compared to brand posts) as well as builds trust and a sense of authenticity as satisfied customers share their experiences.
Take the Advantage of Reviews
How people perceive your real-world depends greatly on your digital presence to grow your business. The reviews and rating provided by your customer to your food truck business is among the most critical aspects of your reputation and trust towards visitors especially online.
Importance of Reviews
To increase the credibility of your food truck, taking feedback and positive reviews from happy customers on social platforms such as Google and Yelp is a strategic move. Key findings say that 93% of consumers agree that online reviews impact their purchase decisions greatly.
Another case study suggests that 72% of customers are happily willing to share positive feedback when they are asked for review, underscoring the importance of engaging satisfied customers to build your online reputation.
Manage Reviews
ReviewTrackers recently reported that 53% of customers expect businesses to respond to their negative reviews within a week. When handled well, unhappy customers will return after a complaint is resolved.
Understand the Data and Analytics
Understanding the data and metrics gives you valuable insights into what your customers want and helps you make your food truck even better. Keeping an eye on these numbers is absolutely crucial. It's like having a map that guides you toward making the right decisions for your business.
Know about Your Targeted Audience
Platforms like Instagram and Twitter, plus data from your website, can tell you a lot about your customers. 80% of brands surveyed in a Bain & Company study believed they delivered a "superior experience" to their customers. However, when customers were asked about their own perceptions, only 8% of firms were found to be delivering a superior customer experience. So, it's crucial to pay attention to what your customers are saying.
Use Data for Future Marketing
Numbers give us some pretty cool insights. They can help us fine-tune things like where to set up, what to put on the menu, and how to promote our food truck. For example, using predictive analytics can lead to 73% higher sales and double the number of high-value customers.
Partnering Up for Success
Teaming up with local businesses and influencers can be a game-changer. Hosting events together or getting a shoutout from a local influencer can bring in a whole new crowd.
Expanding Reach Through Partnerships
Participating in local events like food festivals, concerts, and beer gardens is a great way to get noticed. Collaborating with event organizers can sometimes even lead to exclusive opportunities.
Use Seamless Digital Ordering and Loyalty Programs
Using technology for ordering and loyalty programs is a win-win. It not only makes things convenient for your customers but also helps build their loyalty.
Advantages of Mobile Ordering Platforms
Mobile apps for ordering save time and make payments hassle-free. Planning ahead during slower periods can also help minimize wait times.
Implementing Digital Loyalty and Rewards Programs
Encouraging check-ins, shares, reviews, and referrals builds a sense of community among your customers. Gamifying the program with points, badges, and special benefits keeps them coming back. Competitions and time-limited rewards keep things exciting.
Conclusion
Today, being successful in the food truck business means having a well-rounded digital strategy. It's about reaching out to your customers where they are, both in the physical and virtual worlds.
Engaging content, a positive online reputation, using data to refine your approach, and forming strong partnerships are all key. Embracing technology and loyalty programs is the cherry on top that keeps your customers coming back for more. So, let's rev up and set sail for success in the world of digital marketing!