Dried Fruits Healthy Snack to Eat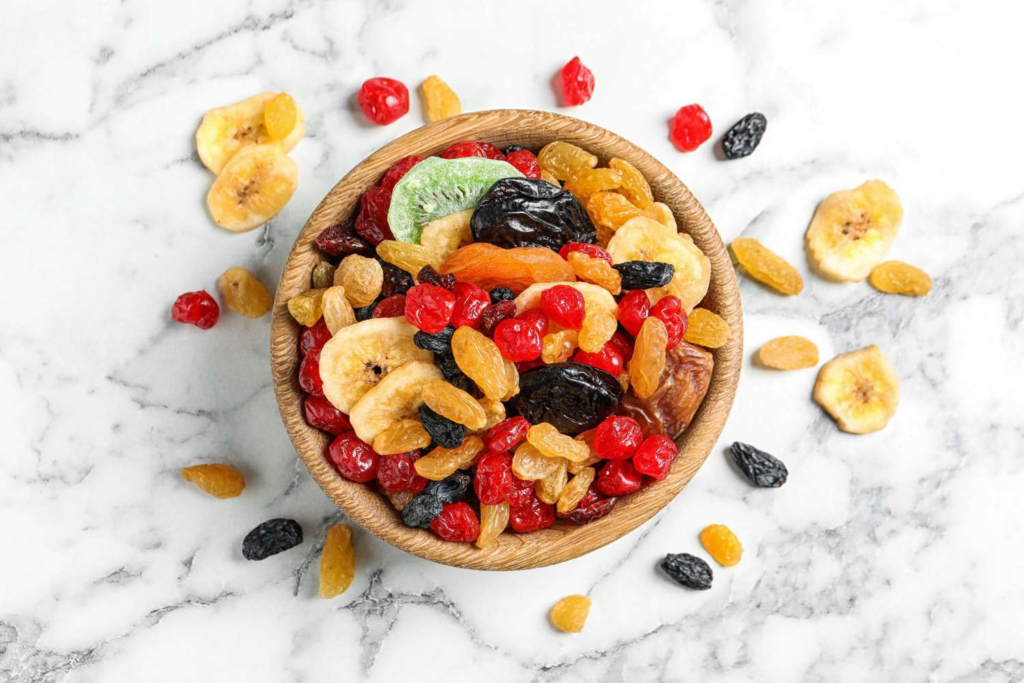 Dried fruitsare always a very tempting snack. Indeed, it is difficult not to fall in love with a bowl of peanuts during an evening, an aperitif, or a mixture of nuts and almonds on the living room table. But can you do it safely and with a clear conscience, or are dried fruits not as healthy as they look?
The fact is that dried fruits are very high in fat, so it is a very energy food. However, most nuts contain unsaturated fats: both polyunsaturated fats, like pine nuts and walnuts, and monounsaturated fats, such as those found in pistachios, pecans, almonds, and hazelnuts.
Brazil nuts, macadamia nuts, and cashews, on the other hand, have a higher percentage of saturated fats which, as we know, can help raise cholesterol levels and should therefore be eaten in moderation.
Chestnuts are an exception, as they contain less fat but more starchy carbohydrates than other nuts.
Dried fruits are a good choice if they are considered a substitute for other snacks, such as products high in saturated fat or sugar (biscuits, chocolate, cakes). The high protein and fibre content makes it a filling snack that, in addition, provides other nutrients such as vitamin E, potassium and magnesium.
Dried fruits are quite caloric, and it is obviously necessary to pay attention to the size of the portions. A handful of dried fruits (about 30 g) contains about 175 kcal, so limiting yourself to one serving is better. If it's too difficult for you and you just can't stop, you can try to favour unshelled dried fruits: as it takes time and requires more effort to shell walnuts, hazelnuts and others, you tend to eat less. Another positive point: shelled nuts are, in most cases, unsalted (with the exception of pistachios).
Generally speaking, nuts that are roasted, salted, flavoured or caramelized with honey are best avoided, as they obviously contain salts or sugars that make them less healthy.
As an aperitif or at a party, be aware that peanuts are usually salty, making you thirsty and encouraging you to consume more alcohol.
The healthiest choice is to opt for natural dried fruits without salt, wasabi, honey, etc. But that doesn't mean they have to taste monotonous: experiment with other low-calorie spices, like Chinese 5-spice, paprika, or cayenne pepper. However, you can try vanilla extract or cinnamon for a sweeter taste. This will give the dried fruit a special touch and give you more variety.
Soft dried fruits vs. Oily dried fruits
By definition, they have a low water content and are a concentration of trace elements. A distinction is made between Soft dried fruits which are dried on racks or on the tree: dried apricots, raisins, figs, dried bananas, dried pears, prunes, dates, apples, etc. Oily dried fruits with shells, such as almonds, walnuts, or pistachios. Average nutritional composition for 100g: Calories: 180 to 320 kcal Proteins: 1.2 to 4 g Lipids: 0.2 to 0.6 g Carbohydrates: 40 to 76 g Fibres: 5 to 14 g The higher fibre concentration than in the fresh fruit promotes the elimination of bile acids and cholesterol. The quantities of minerals, such as calcium, potassium, iron etc., are multiplied by 3 to 5 compared to fresh fruit. The most caloric are raisins (320), followed by dates (300). The richest in potassium and sodium are dried apricots. The dried banana is the richest in magnesium. The fig is the richest in calcium.
The walnut is a shelled fruit; that is to say, it has a shell-like hazelnut, almonds, or pistachios. It has many assets that make it a true health ally.
Rich in vitamins E and B, magnesium, as well as calcium, iron, minerals, and trace elements, the walnut is an interesting fruit from a nutritional point of view. It is also extremely advantageous for health.
Promotes transit
The walnut is an antioxidant-rich in dietary fibre. This is why it is recommended for digestion. In addition, this fruit naturally treats constipation.
For more effectiveness, be sure to eat fresh nuts. Increase their consumption gradually to avoid fibre-related inconvenience (bloating, etc.).
A very healthy appetite suppressant
Thanks to its high fibre content, which allows you to quickly feel a satiety effect, walnuts are an ideal appetite suppressant for people on a diet.
Even if the nut is rich in lipids, it will not make you fat if you ingest a reasonable amount (a handful per day). Indeed, the calories held in this nut are not completely absorbed by our bodies.
Limits the risk of disease
Research has shown that consuming walnuts can have numerous health advantages. One of the most significant benefits is a decreased risk of certain ailments like cholesterol, cardiovascular disease, type 2 diabetes, gallstones, and colon cancer.
When it comes to cardiovascular disease, walnuts are especially beneficial. This is because they contain a high level of polyunsaturated fatty acids, including omega-3s, which are known to be healthy for the heart.
Beneficial for the brain
In ancient times, the nut was thought to be good for the brain because of its shape. And it was not wrong! Californian investigators have published a study on its advantages on our brain activity.
The omega-3s in the nut are said to be beneficial for memory, concentration and speed of comprehension.
Reduces stress
If you're feeling mentally overwhelmed, consider adding nuts to your diet. They can be a great tool for combating stress. In particular, walnuts are a great energy source due to their high protein and fatty acid content. Consider incorporating them into your breakfast routine, especially during exam periods. Paying careful attention to portion size and avoiding other additives such as salt and sugar, dried fruits and nuts are a healthy choice for a between-meal snack.