WHAT'S THE BEST WAY TO COOK CORNED BEEF Brisket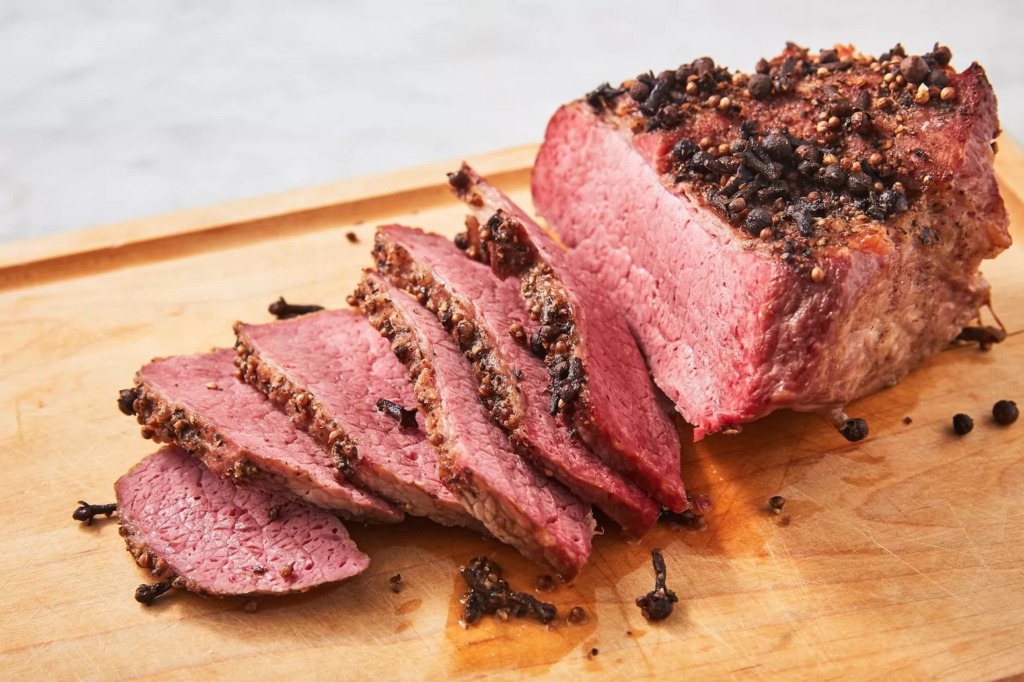 If you are Irish and love to eat corned beef brisket, then it means one thing: that you love it when it's St Patrick's Day. It is quite a common dish that is served on this occasion, but do you know that corned beef brisket is not originally a dish that was invented by the Irish? It has some nineteenth-century history attached to it, but let's not just dive into it yet.
Even in the United States of America, it has become quite a famous and favorite dish of the residents. This dish is famously served on the occasion of St. Patrick's Day, but even in everyday life, along with smoked brisket, it has also become quite a treat to your mouth when it is cooked to perfection. 
Have you ever tried to make this yourself? Then you must be aware that it is not that difficult to make. There are several ways in which corned beef brisket brisket is made. It can either be grilled, slow-cooked, boiled, baked, or even pan-fried.
All these options can seem to be confusing because the question still remains: What's the best way to cook corned beef brisket? The most common answer that you will get is that the best way to cook corned beef brisket is by boiling it. The reason why we have used this term is because it is the most common method to cook corned beef. We know that preferences vary for each person, so we will share a couple of ways to cook corned beef brisket.
Boil
Let's start with the most widely used method that you can use to cook at home.
Ingredients required
Beef
Carrots
Onions
Potatoes
Herbs
Spices
Cooking procedure
The procedure is fairly simple. First of all, you have to put beef in a pot that is filled with water and boil it. It is important to make sure that water stays covered, and if you feel the water level is low, you can add more water or broth as well to your liking. This should not take more than 2 to 3 hours, and make sure that the beef is now tendered. Once the boiling procedure is done, make sure that it stays there that way because this resting time will allow the juices to flow to different parts of the beef before cutting it.
To add more flavor, you can add carrot, onion, or even potato to the pot; this can be adjusted as per your liking. If you are a person who wants to add some extra flavor, you can add numerous herbs and spices as well. It will not just give it a great taste for your tongue but also will add a fulfilling meal.
Baking
This recipe is fairly simple and for all those people who like to bake their meals.
Ingredients
Corned beef brisket
Dijon Mustard
Brown Sugar
Aluminum foil
Cooking procedure
For this procedure, first of all, preheat the oven to 350 degrees. It is also advisable to get rid of the excessive salt, so after you take it out from the oven, you have to rinse it under the cold water. Afterward, boil the brisket in covered water, and once it is fully boiled, take it out. Afterward, you will need an aluminum foil where you will have to place your corned beef brisket, but it should be wrapped lightly and not too tight.
In addition to sprinkling sugar on each side, cover the brisket with a layer of Dijon mustard on all sides. Before wrapping the brisket in aluminum foil, do this. Once you've finished, wrap it up, but leave a space between the foil and the meat. After about two hours, remove the brisket from the oven and remove the foil. Place the brisket back in and turn the broiler to low. Allow the top to caramelize, but keep an eye on it, and don't wander out too far. Prior to slicing, let the corned beef brisket rest on the cutting board for about 10-15 minutes.
What is your favorite way?
As we have mentioned above, there is more than one way to cook corned beef brisket. We have only shared a couple of methods to cook corned beef brisket that are most widely used on St. Patrick's Day in both Ireland and the USA, but also on normal days occasions. Though it should be known that there are several other ways to cook corned beef, such as slow-cooked, pan-fried, and even grilled, it all depends on what you want.
Share your thoughts and how you would like your corned beef to be made.