Exploring Nepal's Local Cuisine on a Himalayas Trek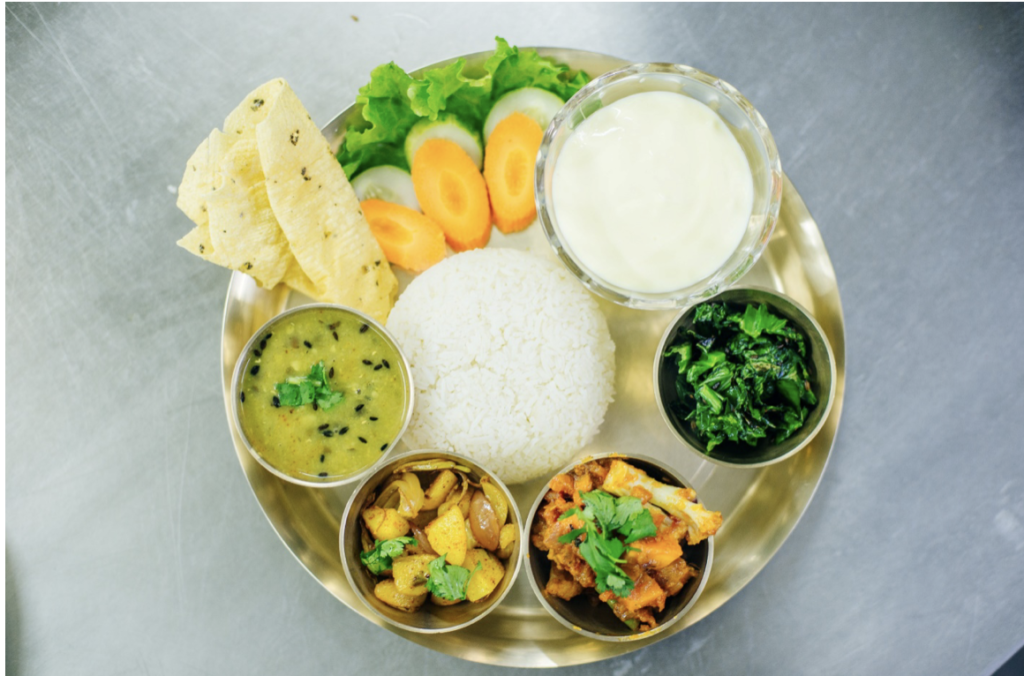 Nepal being a diverse country is not just rich in natural and cultural beauty but also cuisine. Going on a trek in Nepal is not just about the amazing views. As you walk, you also get to taste different local foods. Each place you visit on your trek has its own special dishes, making the journey even more exciting.
The distinct cuisine of Nepal presents a fusion of flavors, influenced by Tibetan, Indian, and other local cuisines that have been passed down from generation. When trekking in Nepal, you can try both big meals and tasty snacks. These local foods show the country's mix of culture and nature.
While walking on Nepal's beautiful paths, you'll find teahouses and lodges. These places, along with local villages, serve traditional meals made from fresh local ingredients. Whether it is a bowl of dal bhat, momo (dumplings) with spicy sauce, or authentic Tibetan butter tea, every meal offers you an opportunity to delve into Nepal's cuisine filled with history and cultural aspects.
Here, we will explore the best trekking trails in Nepal for tasting authentic foods and highlight some must-try dishes that you should not miss during your Himalaya tours in Nepal.
Best trekking trails for tasting authentic foods
Annapurna Circuit Trek
The Annapurna Circuit trek is one of the classic adventures in the Annapurna region of Nepal. The trek takes you in around the vast Annapurna mountains. As you journey, you'll encounter a range from flatland villages to arid valleys and towering passes in the mountains.
The reason why the Annapurna circuit trail is one of the best destinations for you to taste authentic goods is because of its remoteness. You will get to experience a variety of local dishes in tea houses and lodges along the trail. You can try the authentic dal bhat which includes steamed rice lentils, and freshly cooked vegetables. You can also go for momo which are the steamed dumplings filled with either vegetables or meat. Also, do not forget to have Tibetan bread for breakfast.
Langtang Valley Trek
The Langtang Valley trek is a popular trekking trail situated in the Langtang region of Nepal. As the trail is filled with Tamang and Sherpa community who practices Tibetan-influenced Buddhism, You will get to taste a lot of Tibetan flavors during the trek.
The must-try when you trek to the Langtang Valley is yak cheese. There is a cheese factory in Kyanjin Gompa that you can visit during your Langtang Valley trek. You can also try Churpi (hardened yak cheese), and traditional Tibetan butter tea in the local teahouses along the trail.
Everest Base Camp Trek
A trail that cannot be missed whenever there is talk of trekking in Nepal is the Everest Base camp trek. Leading trekkers to the base camp of the world's tallest peak Mount Everest, the Everest Base camp trek offers you mesmerizing sceneries of mountains combined with the authentic hospitality of Sherpa people.
You will get to taste lots of Sherpa cuisines during the trek. You can try dishes like yak steak, Sherpa stew, and tsampa (roasted barley flour) porridge during the journey. Surprisingly, you can get Western cuisine as well during the trek up to Namche Bazaar.
Manaslu Circuit Trek
The Manaslu Circuit trek marks itself as one of the remote and off-beaten trails in Nepal. As the region has managed to stay away from modernization while maintaining the authentic side, it reflects on the local cuisines as well. You will get to taste some of the most genuine dishes during the trek to Manaslu Circuit.
You can try dishes like thukpa which is a warm noodle soup with vegetables, gundruk which is a fermented leafy greens, and yak curry during the trek.
Mustang Trek
Mustang is another popular destination among trekkers for a short trek with rewarding views. Another thing that Mustang is popular for is locally brewed apple brandy. This is a must-try if you ever visit Mustang.
You can also try traditional Tibetan dishes like thenthuk which is a hand-pulled noodle soup with vegetables and meat and momo.
Foods you should not miss during trekking in Nepal
Dal Bhat
Dal Bhat is a main dish of Nepal, consisting of lentil soup (dal), steamed rice (Bhat), vegetables, pickles, and sometimes meat. You will easily find this in every trekking route for lunch or dinner.
Momo
Momo is often considered a national dish of Nepal because of how much people love it. This tasty treat is a dumpling packed with either chopped meat or veggies, accompanied by a zesty sauce on the side.
Thukpa
Thukpa can be easily found in the trekking trail which is a warm noodle soup with vegetables, meat, or tofu, flavored with aromatic spices. This is best to warm up your body in the cold weather of the mountains.
Gurung Bread
It is a traditional bread made from buckwheat or wheat flour, commonly enjoyed during breakfast with local honey or homemade spreads. You can find this easily during the Ghandruk trek.
Yomari
It is a Newari treat made from rice flour dough filled with molasses or sesame seed paste. Yomari is typically eaten during the Yomari Punhi festival or other Newari festivals. You can find this in local Newari restaurants.
Chhurpi
Churpi is a Hardened yak cheese that is popular as a snack or chewing treat during long treks. You can easily find these in the teahouses and lodges along most of the trekking trails in the Himalayan region of Nepal.
Overall, there are several other local dishes you can try as you walk along the traditional villages during the treks in Nepal. Exploring the local cuisine while trekking in Nepal offers you to immerse yourself in the country's rich food traditions and discover new flavors amidst breathtaking mountain landscapes.
So, when you embark on your next trekking adventure in Nepal, be sure to enjoy the culinary delights along the trail to add more fun and memory to your entire trekking experience.