Elixor Menu Canada & Updated Prices List 2023
Elixor Menu Canada offers a wide variety of options, from classic burgers and fries to international flavors and healthier choices, to satisfy any appetite. Discover what's new and stay on budget with our latest offerings and updated prices at Elixor Canada.
Elixor Menu 2023
The Elixor Canada menu is a masterclass in the organization, with the below given categories you can easily find you favorite meals easily:
Burgers & Sandwiches
Pastas
Pizzas
Chef's Adventure
Fish & Seafood
Steaks & More…
Salads
Dessert
Kids Menu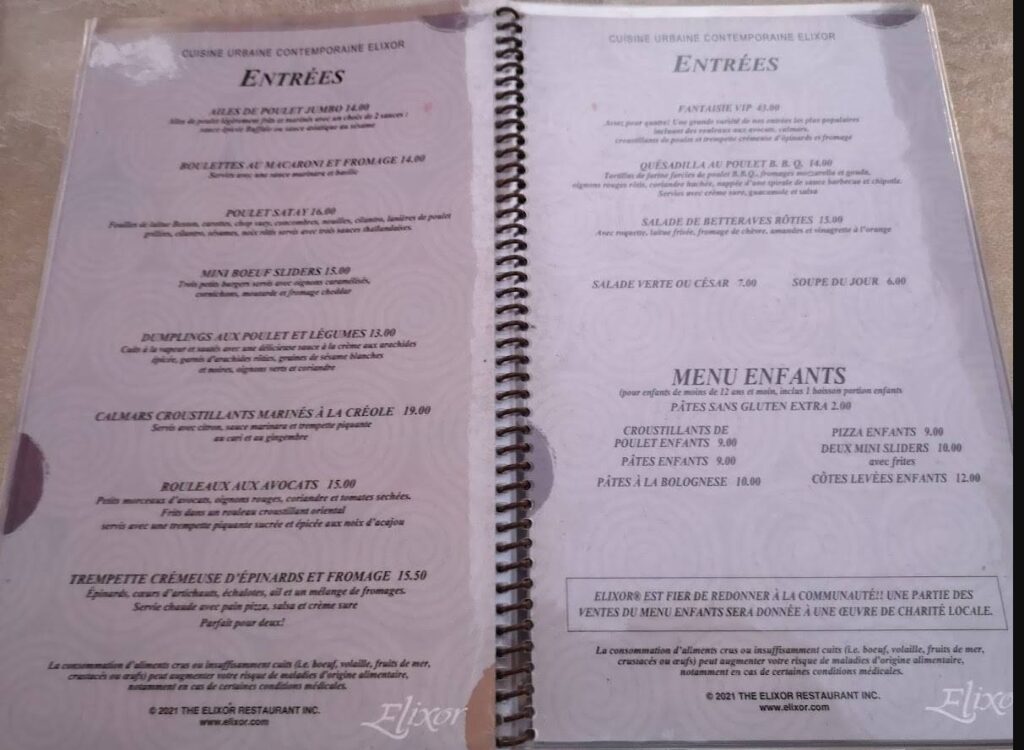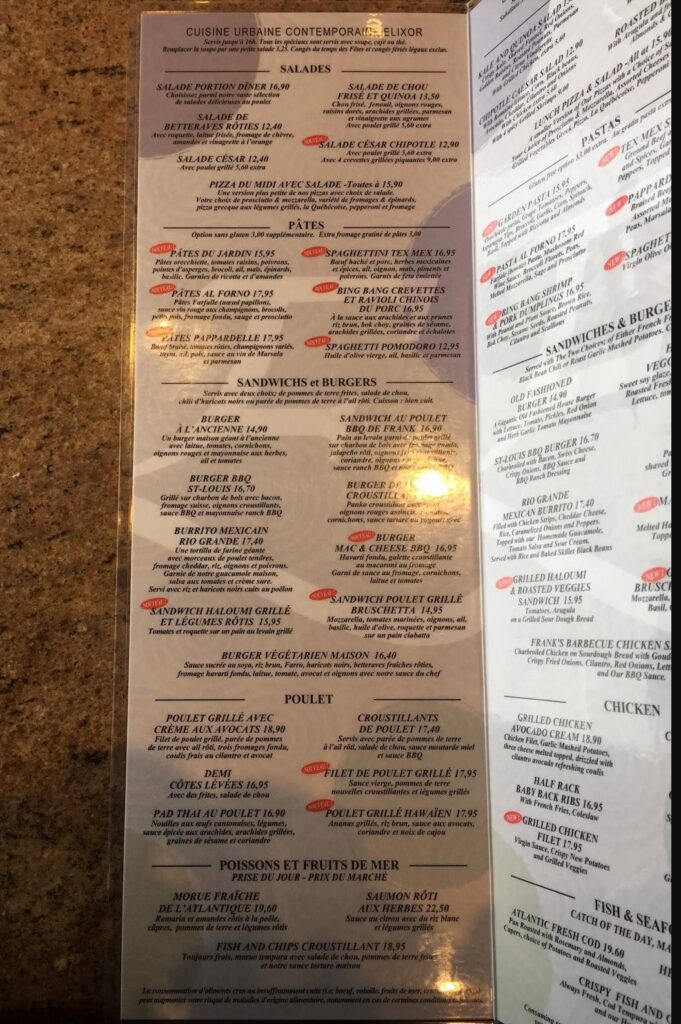 Let's roll up our sleeves and take a deep dive into the menu of Elixor Canada, where we can thoroughly examine every category and menu item:
Menu Elixor Burgers & Sandwiches
Item
Price
CAJUN BURGER
Charbroiled with Melted Jalapeño, Havarti Cheese, Bacon, Guacamole, Lettuce and Tomatoes, All on a Sesame Seed Bun with Chipotle Mayonnaise
C$ 17.00
OLD FASHIONED BURGER
A Gigantic Old-Fashioned House Burger with Lettuce, Tomato, Red Onion and Herb Garlic Tomato Mayonnaise
C$ 21.00
ST-LOUIS BBQ BURGER
Charbroiled with Bacon, Swiss Cheese, Crispy Onions, BBQ sauce and B.B.Q. Ranch Dressing
C$ 19.00
HOUSE MADE VEGGIES BURGER
Sweet soy glaze, Brown rice, Farro, Black Beans, Roasted Fresh Beets, Melted Havarti Cheese, Lettuce, Tomato, Avocado and Onions with our Chef Dressing
C$ 19.00
NICOLAS CRISPY CHICKEN SANDWICH
Crispy Buttermilk Chicken filet, vinaigrette Kale slaw, Swiss cheese & tomato
C$ 19.00
FRANK'S BARBEQUE CHICKEN SANDWICH
Charbroiled Chicken on Sourdough Bread with Gouda Cheese, Roasted Jalapeno, Crispy Fried Onions, Cilantro, Red Onions, Lettuce, BBQ Ranch Sauce and Our B.B.Q. Sauce.
C$ 19.00
AVOCADO CHICKEN CLUB
Grilled Chicken Fillet with Tomato, Bacon, Avocado, Lettuce, Melted Gouda Cheese and Garlic Tomato Herb Mayonnaise
C$ 20.00
RIO GRANDE MEXICAN BURRITO
A Giant Flour Tortilla Filled with Tender Chicken Strips, Cheddar Cheese, Rice, Caramelized Onions and Peppers. Topped with our Homemade Guacamole, Tomato Salsa and Sour Cream. Served with Rice and Baked Skillet Black Beans.
C$ 21.00
BURRITO MOJADO
Flour Tortilla Wrapped and Stuffed with Braise Beef, Rice, Black Beans Chili, Tomato, Cilantro, Cheese, Onions, Topped with Our Homemade Spicy Guajillo Sauce, Salsa Verde, Guacamole, Salsa Fresca and sour cream
C$ 22.00
Elixor Menu – Pastas
Item
Price
PASTA BOLOGNESE
Linguine, San Marzano Tomato, Marjoram, pine nuts, Goat & Parmesan Cheese
C$ 21.00
PAD THAI
A Delicious, Spicy Peanut Sauce with Sautéed Chicken and Asian Vegetables. Tossed with Cantonese Egg Noodles and Topped with Peanuts, Cilantro, Sprouts and black and white sesame seeds.
C$ 21.00
PASTA TELEFONO
Spaghettini Pasta with Virgin Olive Oil, Roasted Whole Garlic, Fresh Basil, Arugula. Oven Roasted Tomatoes, a Touch of Our Delicious Marinara Sauce and Parmesan Cheese.
C$ 17.00
FETTUCCINE GEO-FREDO
Parmesan Cream Sauce with Bacon, Garlic, Roasted tomato and Thyme
C$ 20.00
BOW TIE PASTA WITH FOUR CHEESES
Mozzarella, Parmesan, Romano and Ricotta with Our Marinara Sauce and Fresh Basil.
C$ 20.00
SEAFOOD LINGUINE
Pimenta Moida, strips of fresh clams, calamari, shrimp, tomato, garlic, oregano, white wine
C$ 28.00
Elixor Menu Canada – Pizzas
Item
Price
MEAT LOVER'S
Tomato Sauce, Mozzarella, Pepperoni, Ground Beef, Chorizo Sausage, Bacon and Parmesan
C$ 17.00
GREEK VEGGIES
Garlic Extra Virgin Olive Oil, Roasted Bell Peppers, Sautéed Mushrooms, Zucchini, Tomato, Broccoli, Feta, Oregano and Arugula
C$ 19.00
PROSCIUTTO & ARUGULA
Tomato, Mozzarella, baby Arugula, Prosciutto San Daniele, Peppers, and Parmesan
C$ 21.00
PEPPERONI
Tomato Sauce, Mozzarella, Roma Pepperoni, and Oregano
C$ 21.00
CHEESE PIZZA
Tomato Sauce, Mozzarella and freshly diced Tomatoes
C$ 22.00
Elixor Canada Menu – Chef's Adventure
Item
Price
CHICKEN CRISPERS
Chicken Tenderloin Dipped in our Batter and Fried Until Crispy.Served with choice of Potatoes, Coleslaw, Honey Mustard Sauce and BBQ Sauce
C$ 22.00
FIRE ROASTED CHICKEN FILET CHOP
Portobello Mushrooms, Fresh Asparagus and Rosemary small Potatoes, Roasted Vegetables, Topped with Arugula, Goat Cheese and Citrus Fresh Basil Vinaigrette
C$ 27.00
NEW ORLEANS CHICKEN & PASTA
Herbs, Breadcrumbs and Parmesan Crusted Chicken FiletsOver Spaghettini with Oven Roasted Red Onions, Bell Peppers, Arugula and Mushrooms in a Cajun Spiced Cream Sauce
C$ 27.00
CRISPY CHICKEN PALAZZO
Herbs, Breadcrumbs and Parmesan Crusted Chicken Filets, Cooked until Golden Brown and Crispy. Served over Basil Pasta, light Tomato Sauce and a touch of cream, with Prosciutto, Arugula, Shaved Parmesan.
C$ 27.00
GRILLED ROSEMARY CHICKEN
Marinated with Rosemary and Charbroiled, served with Roasted Garlic Mashed Potatoes, asparagus, Peppers & Chef creation Mushrooms Sauce
C$ 26.50
GRILLED CHICKEN WITH AVOCADO CREMA
Grilled Chicken Filet, Roasted Garlic Mashed Potatoes with a blend of three cheese melted topped, spicy sauce and drizzled with cilantro avocado refreshing coulis, Corn and Pico de Gallo
C$ 26.50
PIRI PIRI PORTUGUESE CHICKENPortuguese Chicken filets marinated with our delicious PERI-PERI blend, Herbs & spices. served with French fries & salad.
C$ 26.50
Elixor Prices – Fish & Seafood
Item
Price
Caesar or House Salad to accompany your meal
C$ 28.00
CAJUN SHRIMP & CHICKEN JAMBALAYA
Sautéed Chicken, Shrimp and Chorizo or Sausage with Peppers, Onions and Tomato in a delicious Spicy Sauce. Served with Linguine Pasta or on a Bed of Rice.
C$ 28.00
SHRIMP SPAGHETTINI WITH SCAMPI SAUCE
French Style, Sautéed with Olive Oil, Scallions, Whole Roasted Garlic, Arugula, Lemon, Fresh Basil, Parsley, Fresh Tomato and Spaghettini Pasta
C$ 9.00
CEDAR PLANK ROASTED SALMON
Crusted with Ginger and Garlic,Served with Roasted Garlic Mashed Potatoes, Spears of Fresh Asparagus and Mango B.B.Q. Sauce with Fresh Herbs and Tomatoes.
C$ 27.00
CRISPY FISH & CHIPS
Always Fresh, Cod Tempura with Coleslaw, French Fries and Homemade Tartar Sauce
C$ 22.00
GRILLED ATLANTIC SALMON
Garlic Broccoli, roasted Garlic mashed Potatoes, Lemon dill Tartar Sauce
C$ 27.00
TODAY'S FRESH FISH
Selection & Preparation changes daily
C$ Market Price
Elixor Menu Prices – Steaks & More…
Item
Price
NEW YORK STRIP STEAK
The Favorite Steak, Aged Beautifully and Rich in Flavour. Served with Choice of Potatoes and Shoestring OnionsServed with Tossed Green Salad or Caesar Salad and Choice of Potatoes
C$ 39.00
FILET MIGNON
Peppered Beef Tenderloin with Wild Mushroom Sauce, Goat Cheese, Fried Crispy Onions and Choice of PotatoesServed with Tossed Green Salad or Caesar Salad and Choice of Potatoes
C$ 43.00
SHEPHERD'S PIE
Two Ground Meats, Fresh Vegetables in a Delicious Wild Mushroom. Tomato Bordelaise Sauce, Covered with Parmesan Cheese Roasted Garlic Mashed Potatoes, and Topped with Fried Crispy Onions
C$ 21.00
A WHOLE RACK OF B.B.Q. BABY BACK RIBS
Fall off the Bone with Choice of Potatoes and Coleslaw.
C$ 27.00
CHICKEN & RIB COMBO
Long Tender Marinated and Chargrilled Chicken Filet with 10oz Baby Back Ribs.
C$ 29.00
RIBS & SHRIMPS
10 oz. Baby Back Ribs with Five Large Grilled Shrimp.
C$ 34.00
Seasoned Fries with Spicy Mayonnaise
C$ 6.00
Sweet Potato Fries with Spicy Mayonnaise
C$ 7.00
Roasted Garlic Mashed Potato
C$ 6.00
Steamed Vegetables
C$ 6.00
Elixor Canada Prices – Salads
Item
Price
INDOCHINA SALAD
Marinated sliced grilled chicken filet, tossed with mixed salad, red onions, red and yellow peppers, cucumbers, crispy wontons, mango, avocado, plum dressing, roasted cashews, and sesame seeds.
C$ 20.00
MAUI SALAD
A New Classic. Fresh Sliced Grilled Chicken Filet layered with mixed Greens, Cucumbers, Green Onions, Red and Yellow Peppers, Mango and Crispy Wontons. With Cashews and Sesame Seeds, Tossed with our Shallot Vinaigrette.
C$ 20.00
ASIAN CHICKEN SALAD
Slice Grilled Chicken Filet, Romaine Lettuce, Crisp Wontons, Rice Noodles, Almonds, Scallions, Orange and Sesame Seeds. Tossed in our Special Asian Dressing.
C$ 20.00
COBB SALAD
Assorted Greens with Sliced Grilled Chicken Filet, Diced Tomatoes, Avocado, Chopped Egg and Crispy Bacon. Dressed with Balsamic Vinaigrette and Topped with Goat Cheese and Fried Crispy Onions.
C$ 21.00
CLASSIC CAESAR SALAD
Our Special Eggless Caesar Dressing with Crisp Romaine Lettuce, Croutons, Parmesan Cheese and Bacon
C$ 26.00
BORA BORA TUNA SALAD
Grilled Sesame Tuna (Served Rare) with Romaine Lettuce, Mango, Red Onions, Oranges, Avocado And Cucumbers. Tossed with Our Homemade Ginger-Miso Vinaigrette. Garnished with Pickled Ginger, Pumpkin seeds, Coconut Flakes, Dried Cranberries and Wasabi Mayonnaise
C$ 16.00
Elixor Dessert
Item
Price
ORIGINAL CHEESECAKE
C$ 9.00
FRESH STRAWBERRY CHEESECAKE
C$ 11.00
WHITE CHOCOLATE RASPBERRY CHEESECAKE
C$ 11.00
OREO COOKIES & CREAM CHEESECAKE
C$ 10.00
SALTED CARAMEL
C$ 10.00
BLUEBERRY LEMON
C$ 11.00
PUMPKIN CHEESECAKE
C$ 10.00
LEMON CURD CHEESECAKE
C$ 11.00
CHOCOLATE CAKE
Five Layer chocolate cake with smooth chocolate filling and dark chocolate ganache
C$ 11.00
CARROT CAKE
Deliciously Moist layers of Carrot Cake, walnuts and Cream Cheese Icing
C$ 12.00
HONEY WHITE CHOCOLATE RICEPUDDING CRÈME BRULÉE
Garnished with Sugared Almonds and a Wafer Stick
C$ 10.00
HOT CHOCOLATE FUDGE OR CARAMEL SUNDAE
With Fresh Strawberries 3.25 extra
C$ 10.00
APPLE CRANBERRY COBBLER
Walnut, Vanilla Ice Cream & Caramel Sauce
C$ 11.00
WARM NUT FUDGE BROWNIE
Vanilla Ice Cream, Caramel Sauce & Chocolate Swirl
C$ 11.00
DISH OF ICE CREAM
Choice of Vanilla, Chocolate, Strawberry or Cookies & Cream
C$ 7.00
Elixor Canada Kids Menu
Item
Price
KIDS CHICKEN CRISPERS
C$ 10.00
KIDS PIZZA
C$ 10.00
BOLOGNESE PASTA
Gluten free pasta extra 4.00
C$ 10.00
KIDS PASTA
Gluten free pasta extra 4.00
C$ 11.00
TWO MINI SLIDERS
Served with French Fries
C$ 11.00
KIDS RIBS
C$ 13.00
About Elixor Canada
Elixor Restaurant is a casual dining chain located in Quebec and Ottawa, Canada. The restaurant offers a diverse menu of dishes including burgers, sandwiches, salads, pizza, pasta, and seafood. In addition, Elixor also offers a selection of cocktails, beer, and wine.
The restaurant prides itself on its welcoming atmosphere and friendly staff, providing guests with a comfortable dining experience. Elixor also offers takeout and delivery options for customers who prefer to dine at home. With a focus on using fresh, high-quality ingredients, Elixor Restaurant is a great option for those looking for a tasty and satisfying meal in a laid-back environment.
Frequently Asked Questions (FAQs)
Is Elixor Canada Halal?
As a halal-compliant eatery, Elixor Canada assiduously abstains from serving pork dishes and alcoholic drinks, making it a go-to fast-food joint for those who maintain such dietary restriction
What kind of food does Elixor serve?
Elixor Restaurant is a casual dining restaurant that serves a variety of dishes, including burgers, sandwiches, salads, pizzas, pasta, and seafood. They also offer a selection of cocktails, beer, and wine.
Where are Elixor locations in Canada?
Elixor has several locations throughout Quebec, including in Montreal, Laval, and the West Island. They also have a location in Ottawa, Ontario.
Does Elixor offer takeout or delivery?
Yes, Elixor Restaurant offers takeout and delivery options for their menu items. Customers can place orders online through their website or by phone.
Does Elixor have any vegetarian or vegan options?
Yes, Elixor t has a number of vegetarian and vegan options on their menu, including a veggie burger, salads, pasta dishes, and a cauliflower steak. They also have gluten-free options available.
What Are The Alternatives Of Elixor Canada?
There are many other restaurant options in Canada that offer similar types of food or dining experiences to Elixor Restaurant. Here are a few examples:
Milestones Grill + Bar
Joey Restaurants
Moxie's Grill & Bar
The Keg Steakhouse + Bar
Freshii
The information contained in this post has been meticulously curated from the below-given Elixor Canada's official sources: