15 Fascinating Lobster Facts
Lobster is undeniably a delicious, whether it's the succulent, buttery goodness of a steamed lobster or the mouthwatering delight of a traditional New England lobster roll. It's incredible to think about the journey that lobsters have taken to become such a cherished delicacy. They've come a long way from being considered "poor man's food" to being a symbol of luxury and indulgence.
Did you know that lobsters were once so abundant that they were even fed to prisoners and servants? It's hard to believe that they were once seen as lowly creatures. But over time, as their scarcity increased and their demand grew, lobsters became a sought-after delicacy, especially for special occasions like weddings. Lobsters are more than just delicious seafood. They have a fascinating anatomy and lifestyle. Did you know they have a hard exoskeleton and can regenerate lost limbs? These incredible creatures communicate through touch, chemicals, and even sounds. And get this, some lobsters can live for over a century! Learn about 15 fascinating lobster facts, exploring their anatomy, lifestyle, and historical significance!
1. Two strong lobster front claws:
Maine lobsters, truly unique with their two mighty front claws! These impressive claws, accompanied by their eight walking legs, allow them to gracefully crawl forward. It's these distinct features that make Maine lobsters stand out among their lobster relatives. With their powerful claws and agile limbs, they navigate their underwater world with ease. Maine lobsters truly are a fascinating and iconic species!
2. Lobster posses clear blood
Lobsters possess a fascinating feature – their blood is transparent instead of the usual red found in humans and other mammals. When lobsters are cooked, this clear blood transforms into a thick, opaque white substance that can be observed when cracking open their shells. It's quite a unique sight to witness this jelly-like substance within the lobster's shell!
3. Lobster have a dominant claw:
Lobsters are equipped with a fascinating pair of claws: a mighty crusher claw and a nimble pincher claw. The crusher claw, resembling molars, is perfect for breaking tough meals like clams and crabs. On the other hand, the pincher claw, known as the ripper claw, is ideal for tearing apart softer prey like worms and fish. These claws can be found on either side of a lobster's body, with the crusher claw always on their dominant side.
4. Can lobster regenerate their limbs?
When a lobster loses a claw, antenna, or leg, it has the incredible ability to regrow it. However, it takes around five years for a lobster to fully regenerate a claw of the same size. Lobsters without a claw are called "cull" and can still be caught and eaten, often at a discounted price. If you're hosting a fancy dinner party, you might want to wait for the lobster's limbs to grow back for a complete dining experience.
5. Lobster posses poor vision
Lobsters may not have the best vision, but they excel at detecting motion in dim light and rely on their excellent sense of smell. Their longer antennae and tiny hairs all over their bodies are super sensitive to touch, while the shorter antennae help them detect odors and find food.
6. Grow by molting
As lobsters age, their shells don't grow, so they must molt and develop a new one. During molting, they wriggle out of their hard exoskeleton, making them vulnerable to predators. This process is quite taxing on their bodies, and around 10-15% of lobsters die naturally while shedding their shell. As they grow, molting becomes more energy-demanding. In the early years, lobsters molt frequently, but once mature, it occurs about once a year. Typically, they molt around 25 times in the first 5-7 years. After molting, they're hungry and lacking nutrients, often consuming their old shell for calcium replenishment.
7. Lobster can swim backward
Lobsters are quite versatile in their movements. While they typically move forward, they can also swim backward effortlessly. When they sense danger or get startled, they swiftly retreat by curling and uncurling their tails. This clever maneuver enables them to keep a watchful eye on the threat while making a quick escape. And people really like to eat twin lobster tails.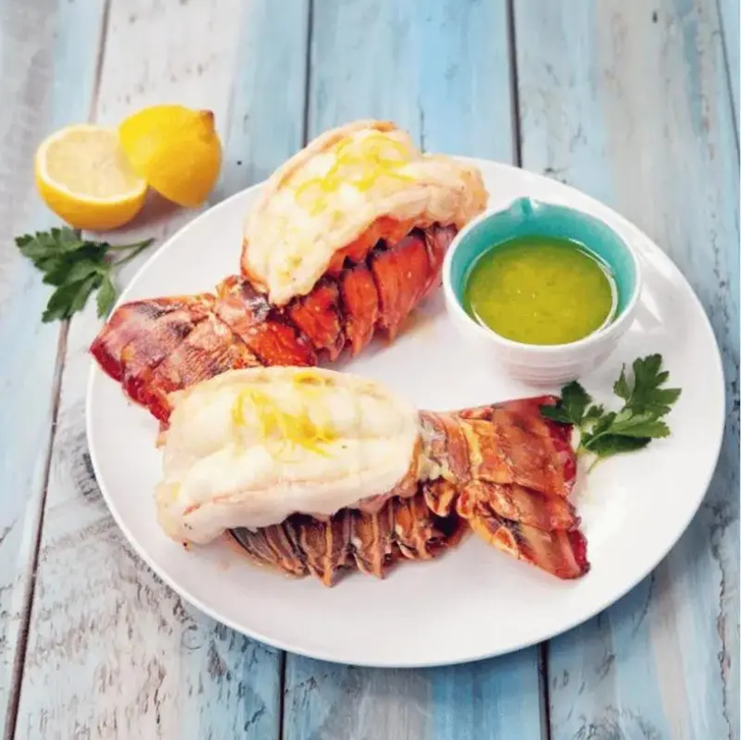 8. Fascinating reproductive process of lobster
Lobsters have a unique breeding process. After a female lobster molts, she emits a pheromone to attract males for mating. This not only helps her find a mate but also offers protection from other lobsters. Once mated, she can store the sperm and decide when to fertilize her eggs. If conditions are favorable, she can hold the sperm for up to a year. Female lobsters can produce over eight thousand eggs, which can be fertilized by multiple males. The eggs are carried under the female's body until they hatch around nine to twelve months later. It's fascinating how they ensure the survival of their offspring.
9. Lobster are biologically immortal
As lobsters grow older, they don't exhibit signs of aging. They maintain a stable metabolism, high energy levels, and continue to eat and reproduce with the same vigor as their younger counterparts. Larger, older female lobsters can even carry more eggs than their younger counterparts. This has led to the intriguing question: "Are lobsters immortal?" While lobsters don't show typical signs of aging, they can still die from external causes like predators, humans, or disease. However, it is possible for a lobster to die from old age when it can no longer molt and ends up decaying inside its shell. So, while not truly immortal, lobsters possess remarkable longevity and vitality.
10. Lobster first catch
In 1605, James Rosier documented the first recorded Maine lobster catch. However, it was in the 1700s that the lobster industry flourished with the introduction of lobster "smacks." These traditional fishing boats remained in use by lobstermen in the Northern Atlantic until the 1900s. The history of lobster fishing is rich, and these smacks played a significant role in the growth of the industry.
11. Lobster once considered as poor's man food
Back in the day, lobster was considered food for servants and prisoners. It was super abundant in the New England oceans, so it was crazy cheap. Can you believe that prisoners even fought to eat lobster only three times a week? The extra lobster was given to pigs or used as bait or fertilizer. Lobster sure had a different reputation back then!
12. Healthy lobster meat
Lobster isn't just a treat for your taste buds, it's also a nutritious addition to your diet. Packed with protein and low in fat, three ounces of lobster contains a mere 16 grams of protein, 76 calories, and less than one gram of fat. But that's not all – lobster is also rich in healthy omega-3 fatty acids and iron, making it a muscle-building powerhouse. When shopping for lobster, opt for wild-caught varieties over farm-raised ones. Wild-caught lobster avoids the use of antibiotics or hormones often found in farm-raised options, ensuring a healthier choice for your plate.
13. They never stop growing
Scientists have discovered that lobsters possess the remarkable ability to continue growing throughout their entire lives. These incredible creatures never cease to eat, grow, and molt, defying the limits of size. In fact, the largest recorded lobster, hailing from Nova Scotia in 1977, measured a staggering 3.5 feet in length and weighed over 44 pounds. Since then, the Atlantic Ocean has revealed numerous Maine lobsters weighing nearly thirty pounds, leaving us to wonder about the existence of even larger specimens lurking in the depths of the ocean, yet to be unveiled. The world of lobsters holds captivating secrets, just waiting to be discovered.
14. Lobster can live more than 100 years
Unfortunately, scientists haven't found a foolproof method to accurately determine the age of lobsters. When lobsters molt, they shed not only their shells but also their gastric mill and digestive tract, leaving no hard parts for age analysis. However, scientists can make estimates based on size. Lobsters found in stores are typically around five to seven years old, but it's believed that these fascinating creatures can live well beyond a century. The age of lobsters remains a captivating enigma, their longevity still shrouded in mystery.
15. Lobster Cannibalistic nature
When it comes to their dining preferences, lobsters have quite the appetite for fresh seafood like clams, crabs, snails, mussels, sea urchins, and small fish. However, in times of scarcity, they won't hesitate to feast on their own kind. After a lobster molts, it becomes vulnerable to predators, including other hungry lobsters. So, even these fierce creatures can't resist the temptation of a freshly molted lobster.
Fresh Maine lobster from lobster order now:
Get ready to tantalize your taste buds and transport yourself to the flavors of Maine with Lobster Order Now! The best maine lobster company. No matter where you reside, we've got you covered with fresh, live lobster straight from the Atlantic Ocean. Our commitment to quality means our lobsters are never raised with hormones or antibiotics, ensuring an authentic and natural taste that will leave you craving more. When you place an order with us, we guarantee overnight shipping to preserve the freshness and quality of your live lobster. Whether you're looking to impress at a dinner party or indulge in a cozy meal at home, our selection has something for everyone. From whole lobsters for a classic experience to delectable lobster tails and mouthwatering lobster rolls, we offer a wide range of high-quality seafood options. Let us bring the taste of the ocean to your doorstep with Lobster Order Now!